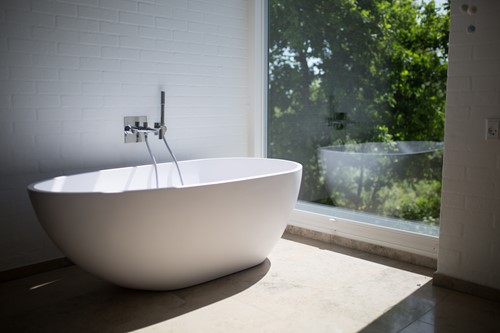 Photo by Rene Asmussen from Pexels

Bathrooms can function as a practical place for you to get ready for the day and a sanctuary where you can unwind after a long day. With a few changes or upgrades, you can enhance the look and ambiance of these rooms. Whether you plan on making changes to a powder room or a spacious master bathroom, keep the latest trends in mind.
Bold Powder Room Walls
Powder rooms might not offer the same amount of space as regular bathrooms, but the right decor can dramatically improve their appearance. One of the latest trends this year for powder rooms is sprucing them up with darker paint colors on a backsplash or wallpaper that has an eye-catching, decorative design. Using one of these options for your powder room can give it a bold yet elegant new look.
Travertine Floors
Marble floors have been the standard choice for luxury bathrooms in recent years, but this is changing with the latest trends. Travertine is taking over as the favored material for bathroom floors due to its rich tones and durability. These floors come in a wide range of styles, cuts and designs in hues that can add warmth to your rooms.
Freestanding, Deep Tubs
Having the right tub can make baths or a relaxing soak more comfortable. This year's trends include freestanding, deep tubs that offer plenty of room for soaking or bathing while also giving bathrooms a more upscale look. These tubs are available in numerous shapes and styles. Whether you prefer a modern, streamlined rectangular shape or a softer rounded shape, you'll find a number of options to consider. Tub trends for 2020 also include black, freestanding tubs that act as a focal point in bathrooms that are mainly white or neutral in color.
Elaborate Lighting
Sconces and other traditional types of bathroom lighting can add a decorative touch to bathrooms, but the trend for this year is chandeliers. These hanging light fixtures add luxury and a striking appearance to bathrooms while also providing plenty of lighting. Chandeliers come in a variety of sizes and designs, so you can find the ideal type that enhances your bathroom's look.
Waterfall Showers
Waterfall showers offer a way to add visual appeal to your bathroom shower while also making it feel more like a spa. You can pair these features with light, natural stone accents or white lighting to create a more natural-looking waterfall in your shower.
If you're ready to start looking into luxury homes on the market, please contact us.